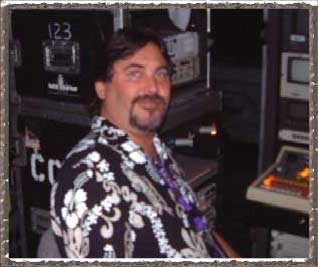 Bill Crooks
Professional Highlights

Bill Crooks has over 30 years in television and a lifetime in the entertainment business. By collaborating with different artists all over the world, his ideas are always unique and fresh. In addition, he brings decades of experience in Marketing and Business Development to the table. This unique set of skills will foster confidence and help ensure the success of your next project.




Bill grew up in Silicon Valley, CA, and attended both private and public schools in the Saratoga area. It was here where his father William, Sr. and his team at IBM developed the RAMAC, which was the first Computer Hard Drive. With Technology and Innovation all around him, Bill Jr. developed a strong affinity for both at an early age. It was during these early years that Bill developed his skills as a musician.

After High School, Bill worked with his close friend Lane Weiss (Exec Board – RTPIE) as an aide in the Cupertino School District, where work was being done to develop what has now become The GATE program for gifted students. While there, many of the guidelines were also established for Emotionally Handicapped education methodologies, which are still in use today.

During that time, Bill also owned a 24 track recording studio, and had already begun a life-long career in the music business. Many studios and records later, Bill made a lateral move into TV production. In 1981, he designed and managed an award winning TV/Audio Production Facility for Warner Communications. This $20M, state of the art facility garnered much acclaim, and allowed Bill to advance quickly.

For the next two decades, Bill worked as Vice President of many large TV and video production companies. During this time, he became involved in technology and business development through his growing list of Silicon Valley contacts. Bill regularly worked with top executives and technologists from key Silicon Valley companies, including Apple, Intel, AMD, IBM, Amdahl, Sun, AT&T, and literally hundreds of others. These interactions allowed Bill to work directly with numerous emerging technologies and their creators. As a result, Bill remains at the cutting edge of new technology.

Meanwhile, he also developed, produced, and directed a large body of content for broadcast for major TV networks like ABC, CBS, NBC, CNN, Fox, HBO, Showtime, Discovery, PBS, and others. As a result, he has garnered several awards, including Emmy, Cleo, and numerous others. He also has been honored with over a dozen certified Platinum sales awards by the Recording Industry Association of America (RIAA)

In 1996, Bill joined Nocturne Productions as Vice President of Engineering. Nocturne specializes in Video Production for large concerts and events. Bill continues to direct concerts for artists like Christina Aguilera, James Taylor, Robin Williams, Avril Lavigne, Enrique Iglesias, Britney Spears and many others. Through his travels, he has amassed a significant number of contacts in the entertainment industry. He continues his long standing presence in Silicon Valley, in various roles, including business development and marketing.